The Timeless Allure of the Breton Tee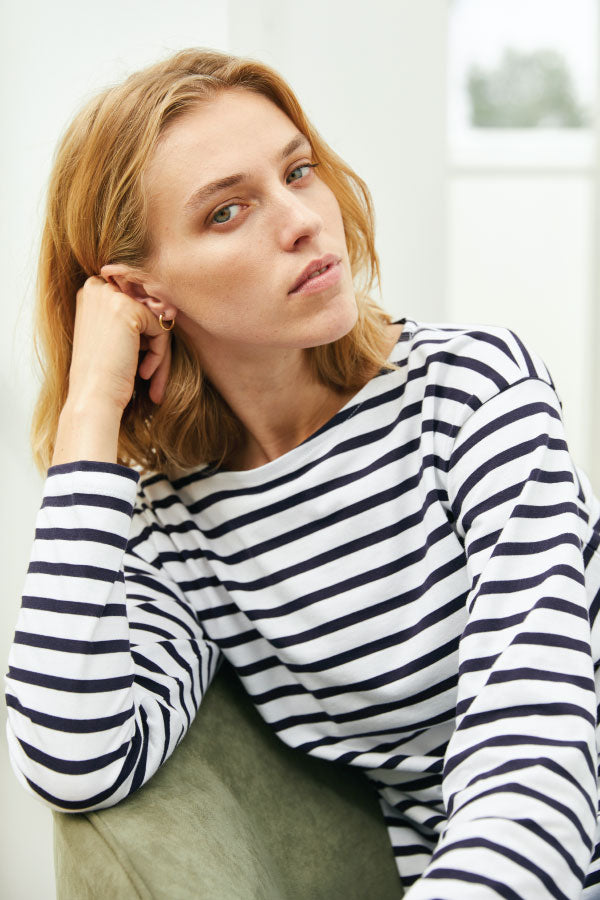 Fashion trends may come and go, but some iconic pieces have a timeless charm that withstands the test of time. One such classic is the Breton tee, also known as the Breton striped shirt. With its roots deeply intertwined with French maritime culture, this iconic piece has transcended its origins and found its way into the hearts and wardrobes of fashion enthusiasts worldwide. In this blog post, we'll delve into the enduring allure of the Breton tee and explore why it remains a must-have piece that continues to capture the essence of effortless elegance.
A Rich Nautical Heritage: The Breton tee has a rich history dating back to the 19th century when it was originally worn by sailors from the coastal region of Brittany in France. With its characteristic navy blue stripes on a white background, the design was said to represent Napoleon's 21 victories. Today, it serves as a timeless reminder of French maritime heritage and seafaring traditions.
Global Popularity: Stripes have a universal appeal, transcending cultural boundaries and becoming a fashion favorite worldwide. This widespread popularity contributes to their enduring presence in the fashion industry.
Timeless Versatility: One of the Breton tee's most endearing qualities is its ability to effortlessly blend into any wardrobe. Whether you're aiming for a casual, chic, or preppy look, this classic piece is an ideal foundation for various outfits. Pair it with jeans, skirts, blazers, or shorts – the options are limitless, making it a go-to item for countless occasions.
Flattering for All Body Types: The clever placement of horizontal stripes on the Breton tee creates an illusion of elongation, making it a universally flattering choice for all body types. Its design accentuates and celebrates the natural curves of the body, making wearers feel confident and stylish.
Iconic Celebrities' Favorite: Over the years, numerous style icons, artists, and celebrities have been spotted sporting the Breton tee, cementing its status as a fashion staple. Its association with iconic figures adds to its allure and timelessness.
Effortless Parisian Chic: Embracing the Breton tee instantly infuses your look with a touch of Parisian chic. Its association with French fashion icons, artists, and intellectuals over the years has elevated its status as a symbol of timeless elegance.
Seasonless Staple: The Breton tee is a versatile piece that transcends seasons. From breezy cotton versions for warm summer days to cozy long-sleeved options for the cooler months, this tee can be effortlessly styled year-round, making it a true wardrobe essential.
Sustainable Fashion Choice: Opting for a Breton tee aligns with sustainable fashion principles. Its enduring design and versatility encourage conscious consumption by reducing the need for constant wardrobe updates and promoting a more eco-friendly approach to style.
Elevating Wardrobe Essentials: Every wardrobe needs reliable basics, and the Theo + George organic cotton tee fits the bill perfectly. It elevates the concept of wardrobe essentials by offering not just a basic tee but one made with sustainability and exceptional quality in mind.
Premium Organic Cotton: The Theo + George tee is crafted from 100% organic cotton, which means it is grown without the use of harmful chemicals or pesticides. Organic cotton is not only better for the environment but also softer and more comfortable against the skin.
Stripes' timeless status in fashion can be attributed to their versatility, flattering silhouette, iconic history, and universal appeal. Their clean and elegant lines, along with their ability to be effortlessly styled with other pieces, ensure that stripes remain a constant presence in the ever-changing world of fashion. Whether in classic or contemporary designs, stripes stand as an enduring symbol of style and sophistication that continues to captivate fashion enthusiasts of all ages.