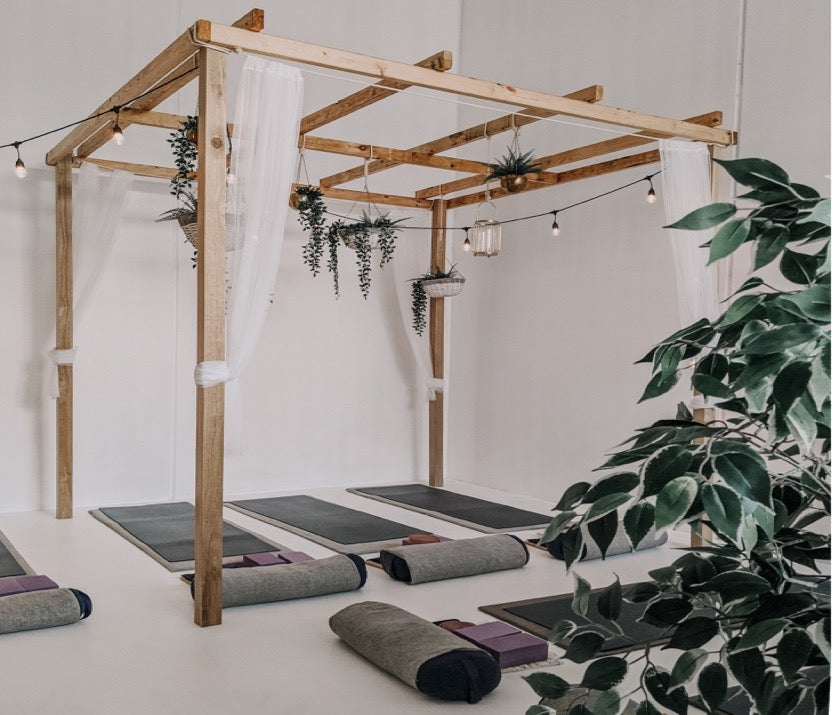 Whether you are looking to socialise, start a new hobby, leave your comfort zone, connect with friends or improve your mental and physical health, there are numerous fitness classes to choose from.
That's why we have found the current trends in fitness and have made a guide with our favourite ones. Don't forget your water bottle and your Theo + George fitness gear! The Pima Cotton Scoop Tee and the Lilly Scoop Neck Tank are ideal for every fitness class, and the Emilie Pima Cotton Long Sleeve Tee, Alex Cashmere Sweater and Layla Thumb Hole Cashmere make the perfect coverups for heading to the gym.
Yoga
An all-time classic! Yoga has always been popular in the fitness world. It is good for posture, mental health, and flexibility. It can even be done from the comfort of your home.
Barre is a high-intensity, low-impact workout. It fuses yoga, pilates and ballet providing a full-body workout. It also improves coordination, flexibility and endurance. It is a workout suitable for everyone, despite ability levels and prior expertise.
Barre classes and studios in Dublin:
Oslo (Dublin 4)
https://www.oslohealth.ie/classes/barre/
Live & Breathe Pilates (Camden Row)
https://www.liveandbreathepilates.com
Form School (Dublin 2)
East Coast School of Ballet (Malahide)
https://www.eastcoastballet.ie/store/adult-classes-2022
With Denise G (Dublin City Centre)
Boxing
Boxing is a great fitness class, as it is "disguised cardio". Many celebrities and models have taken up boxing, given it is fun and very effective. Whether it is a boxing class or a boxing fitness class, it is a great way to exercise and improve coordination, alertness, and balance while learning a new skill.
Boxing classes around Dublin:
Beat Box (Leeson street, Merrion)
https://www.beatboxboxingclub.com
Head On Boxing Academy (Sandyford, Grand Canal, Ballsbridge, Leopardstown)
Flyefit Gyms – Boxercise Class ( Multiple locations across Dublin)
https://www.flyefit.ie/classes/boxercise/
Neil Bowman Training (Blackrock)
https://www.neilbowmantraining.ie/boxing-classes-dublin/ 
Ignite (Dublin 5)
https://ignitefitness.ie/ignite-box-boxing-classes-boxercise/
HIIT
HIIT (High-Intensity Interval Training),  is a general term for workouts that involve short periods of intense exercise alternated with recovery periods. This type of exercise is ideal for those who do not have much free time, as you can burn many calories in a small period of time. It also helps with fat loss, metabolism increase, muscle gain and blood pressure reduction.
HIIT classes in Dublin:
HIIT Fitness (Dún Laoghaire)
Body Rock Performance (Sandymount)
F45 Training (Multiple locations across Dublin)
https://f45training.ie/dublinifsc/new-to-f45/ (Dublin 1 Webpage)
Better Body Gym (Phibsboro)
http://betterbody.ie/our-classes/
Fire Fit (Dublin 14)
BikeRowSki 
BikeRowSki is a Fitness Experience in Dublin. With different sessions every time and the guidance of their coaches, they combine the exercises in a way that creates a complete training balance. It is also a great way to meet new people and socialise.
BikeRowSki Locations:
Kinsealy, Glasnevin, Balbriggan, Fairview, Bray, Dundalk, Douglas
We hope that this guide was helpful! Don't forget to tag us in your posts on Instagram and let us know how you get on!  
Everyday Effortless.
LIVE, MOVE, FEEL, BETTER