How to care for your Pima Cotton Tees.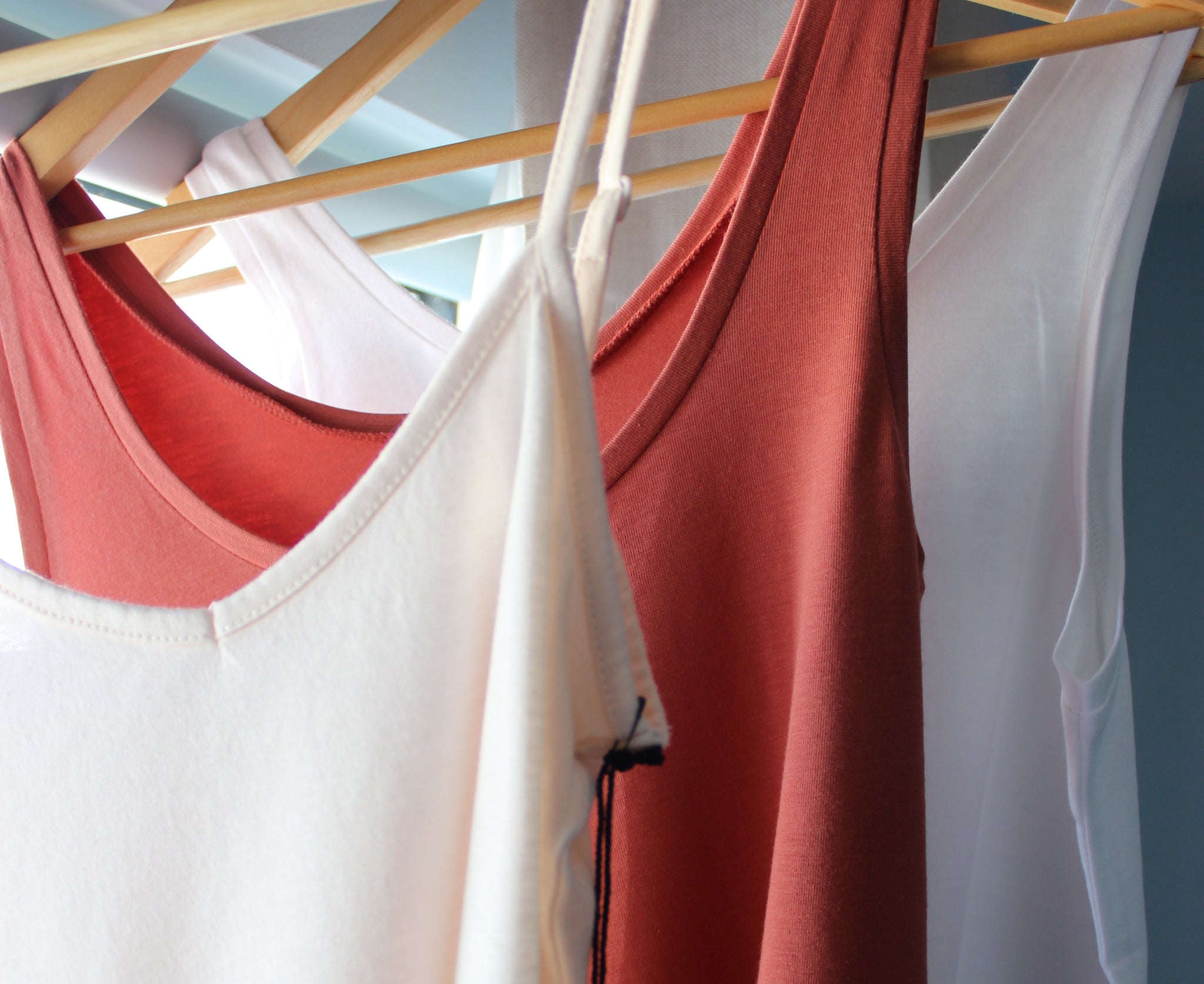 With the sun shining in Dublin, tees have become our go-to wardrobe item.  Our new Pima cotton tees are luxuriously lightweight, durable, breathable, hypoallergenic and biodegradable but do need a little extra care when washing. To help you care for your tees and get longevity out of them, we have provided our care recommendations below.
 How to wash your tees.
Hand Wash: Hand washing is one of the best methods for washing Pima Cotton.  Make sure to wash using cool water as it will prevent fading and shrinking.  Washing in hot water can cause the fabric to shrink up to 1" around so avoid hot water and the tumble dryer unless you want your tee to fit a bit smaller.  Did your tee accidentally shrink - we have provided tips below to get your tee back to it's original size.
Machine Wash: You can machine wash Pima Cotton, but we recommend that you set your machine to 30°C on the gentle cycle and to wash your garment inside out to prevent fading.  Always separate coloured and whites to avoid colour transfer in the wash.  We don't recommend using fabric softener as it can also cause the colour to fade.  
Drying: Pima Cotton can be air-dried or machine dried using a low heat.  We recommend air drying as it will help make the garment last longer and prevent any unwanted shrinking.  If you are tempted to put into the dryer make sure to remove before the top is completely dry and complete the drying process by laying flat on a clean surface to finish the drying process.
Ironing: Ironing can be avoided by simply air-drying your garment.  We recommend removing it immediately from the washing machine, re-shaping the tee if needed.  If you need to iron the top use a cool setting.
Storing: We recommend storing our tees by hanging them in a wardrobe.
HELP I shrunk my tee...
No worries: This simple process will have your tee back to it's original shape and size in no time.

Wash:

 Re-wash your shrunken tee in the sink.  Fill it with cool water and a teaspoon of hair conditioner.  Saturate the tee completely in the water/conditioner solution and then drain the water.  Refill the sink with cool water and rinse the tee.  

Remove the water:

 Gently squeeze the tee from top to bottom to remove excess water - do not twist the tee.  You can either lay the tee flat on a towel and roll it up to remove more water or put it on a gentle spin cycle in your washing machine.

Reshape: Reshape you tee by gently stretching the body and sleeves back to the original size.  You should not need to tug or pull too hard.  Just a gentle stretch should get it back to the right size.  
Dry: Dry your tee on a clean flat surface.  You may want to check your tee halfway through the drying process to see if you need to reshape again.  
If you need any further assistance taking care of your Pima Cotton tees reach out to us at any time at info@theoandgeorge.com 
Chloe Scoop Neck Tee €65.00
Astrid Batwing Tee €79.00  
Everyday Effortless.