6 Ways to Style a T-Shirt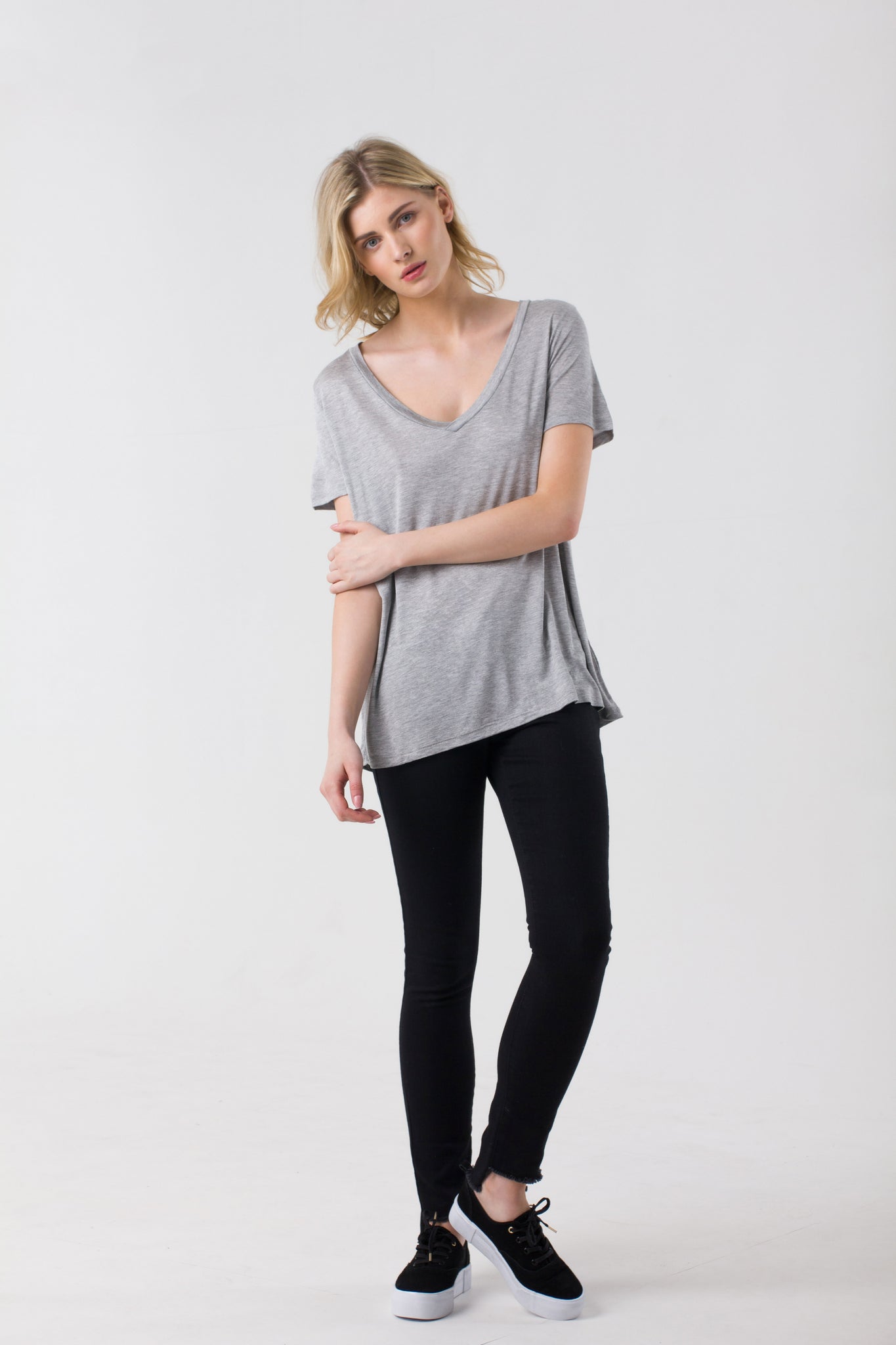 "We believe in the ease of buying less and choosing well"
Have you ever felt unsure about how to style your tees? Have you ever felt that your tees should only be worn when lounging around the house? Well, that's just not true! Nearly every women owns a basic tee in their wardrobe but may not put that piece of clothing to use.
A basic tee can be styled in many different ways for any occasion.
To prove it, we're showing you six ways to style our Theo + George Crew neck and V-neck tees. If your looking at how to style a t-shirt during the day or for a night out here is the guide to completing a simple yet elegant look that can be dressed up or down.
1. Layer it!
Style it with a blouse. This oversized V-neck tee styled with our Laura Shift dress can also be worn as a long blouse. The t-shirt tucked into jeans is perfect for shaping your waist but not making it the focal point.
2. Add a Jacket!
The Crew neck tee Paired with our Lisa bomber jacket and Stacey Lux French Terry pants are the perfect weekend look. Also, by adding heels it transforms into a night out outfit.
 3. Tees can be effortless!
From work to yoga. Tees can be worn for any occasion, they are versatile. This v-neck tee is worn with our Grace cashmere leggings.
4. Wrap up!
Following on from the previous outfit, by styling the t-shirt and pants with our Heather wool wrap coat it creates a completely different look and compliments your t-shirt. *This is the ideal capsule wardrobe outfit*
5. Accessorise your look!
By adding a scarf it adds style and breaks up the outfit!
6. 

Say yes to jeans and t-shirt combos!
Pairing jeans with a t-shirt are the ultimate comfort outfit and it looks effortless! By adding this Lisa bomber jacket and having it draped over your shoulders it gives a nice elegant touch and adds a hint of colour.
 Why buy our t-shirts?
Have you ever bought a t-shirt and within a month of wearing it, it has begun to pill, shrink and has an odour from sweat patches that just won't go away no matter how many times you wash it. This is due to the quality of the garments. By investing in pieces of clothing that are built to last longer they will in effect save you money and help improve the ecological footprint of garments. Our custom blended tee fabric has reduced odour retention, better shrinkage properties, and will stay soft and keep its colour longer than a 100% cotton tee. In addition, it will resist wrinkles and will have a smoother finish and be less likely to pill.
Just to make things easier! We have created a guide that you apply when you just don't know what to wear with your tee!
      Everyday Effortless.