A chat and tips on how to declutter your wardrobe with Annmarie O'Connor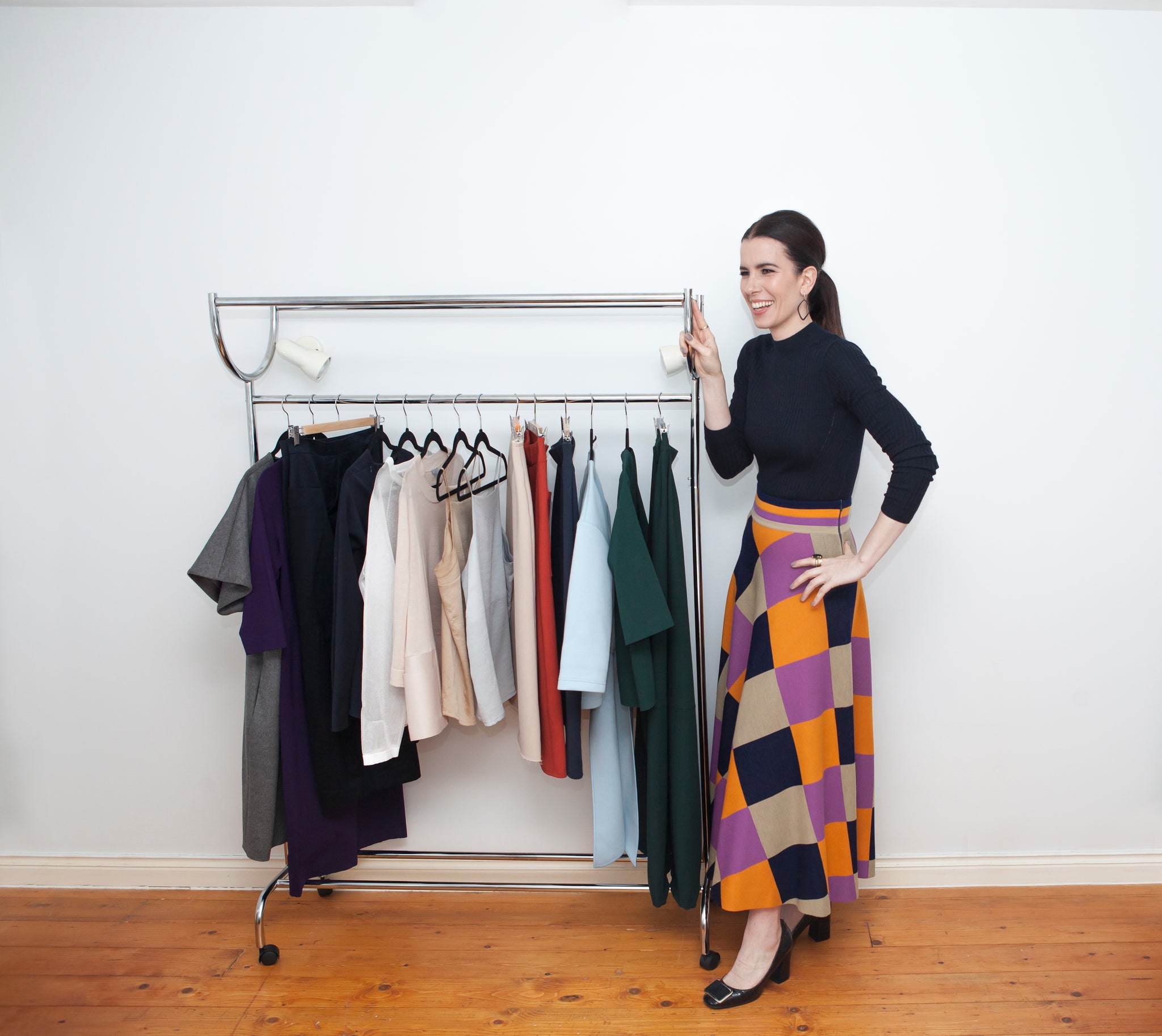 From best selling author of her two books the happy medium and her recent book the happy closet to an award-winning stylist, fashion editor and TEDx speaker. Annmarie O'Connor knows what she is speaking about when it comes to fashion and how to create that perfect capsule wardrobe. We had the pleasure of speaking to her and gaining some tips for our wardrobe!
For people who have yet to purchase  'The Happy Closet' can you tell readers a bit about the book and how it can help improve peoples lives?
The Happy Closet provides the psychological tools for recognising and releasing unconscious patterns behind poor shopping decisions so you can go from collecting to curating a wardrobe that works for the person you are today. It also offers practical guidance to help you transform your wardrobe (and your mind) into an organised and clutter-free space. Learn how to confront your inner hoarder, shop more mindfully, declutter like a ninja, and, most importantly, dress the person you are – today.
What are the three essential tips you would give to someone trying to declutter their wardrobe?
The tips provided in the book are psychological and practical as one informs the other. These are three of the more basic but fundamental tips to kick-start your decluttering mission:
Face the bogeyman: Hoarding is often linked to a sense of vulnerability and, to a certain degree, self-blame. So you haven't done a proper clear-out since 1998. And what if you spent a small mortgage on shoes that still have the swing tags intact? Will the world come to an end because of it? Nah. What's behind those closet doors often isn't as scary as you think. Face your fears; don't feed them.

Break it down: Have more than three wardrobes? Stuff stashed in the attic? What about the garden shed? Calculate your estimated closet inventory by the amount of time needed to clear it.

 

e.g. 4 hours per closet x 3 closets = 12 hours plus breaks. That's an entire weekend or one closet per night for three allocated nights spread out over 1-2 weeks. I advocate the latter.

Bring in the recruits: This is not a job to be tackled alone. Grab an objective third party to help make executive decisions, fill those black plastic bags and top up that mug of tea. Treat it like a pair of training wheels on a bike: the support helps you stop from wobbling and falling off but once you achieve a certain rhythm and confidence, you'll be able to steer your course alone.
For someone who is thinking of creating a capsule wardrobe, what questions should they ask themselves before they make the move?
There are a few ground rules that apply to buying key pieces across the board. The most important thing is to decide what pieces give you the most value as these will determine the look and feel of your capsule. Don't fall foul of prescriptive 'must have' lists. Lists are merely curated lifestyle suggestions based on somebody else's notion of what constitutes 'need'.  If in doubt use the points below as a starting point:
Choose pieces that suit your shape, lifestyle and location (no point investing in a trench coat if you live in the Alaskan Tundra)

Buy the best quality/cut you can afford

Stick to a neutral palette: white, cream, navy, black, tan, brown, khaki

Use trends and accessories to add flavour and colour
What are your staple go to's in your closet?
Blazers and coats for sure. I think tailoring is key to looking sharp. I'm also fond of a polo neck or three.
Do you think that some trends should be kept in your closet for when they come back into fashion?
Trends that stand the test of time tend to reflect a prevailing mood or attitude – the zeitgeist if you will.  The predominance of 'athleisure' for example reflects the need for comfortable clothing for fast-paced lifestyles. Much like capsule basics, it's up to you to decide what works for you. Don't be trapped into thinking you need to tap into a trend because of its popularity. If in doubt, imagine swapping clothes with the model in that fancy double-page glossy magazine spread and walking down your local high street, country lane, city block (delete as appropriate).  How would it fly? Then imagine taking one stand-out element from the look and adding it to a basic jeans and t-shirt combo. A trend is only relevant if it can be incorporated into your closet collateral. That's the difference between fashion victor and fashion victim.
Do you prefer retail or online shopping?
I like a mix of both. I prefer retail for trying on big-ticket items or where fit is an issue (jeans and boots, especially) and online for vintage pieces or brands that I've purchased from in the past where sizing is clear and quality is a given to minimise returns.
With Christmas shopping underway what would be your advice for people trying to break the habit of impulse buying and buying too much?
It sounds so simple but it is crucial to create a list. Think about it: you wouldn't go to the supermarket without one; why should clothes shopping be any different? Once you've identified what you need; it's a question of whittling down that list to five items. Why? It's argued that the brain can only process an average of seven pieces of information at a time, give or take two, which would explain why we always forget something off of our shopping lists. Once you've prioritised five items, then commit to mono-tasking – shopping for one item at a time. By focusing on only one item, you'll give your decision muscles a long lunch break and, as a result, manage to find what you need rather than floating aimlessly with a half-baked idea of what you might want. If this all sounds too draconian, keep a tab of non-essential items that pique your interest and allow yourself one treat off the list upon successful completion of your Christmas shopping essentials.
How did you develop the Nine Closet Types?
The 9 closet types were developed over a period of time where I was decluttering closets and noticed overarching patterns (emotional hang-ups and shopping habits) that kept people locked into a cycle of having a closet full of clothes and nothing to wear.
Nine Closet Types I found to be very funny this was carried out throughout the book. Did you find this difficult to keep in the book?
Thank you. I think it's important to have an inclusive tone which takes the reader on a journey. For me, it reflects my intention - to take the stress out of getting dressed.
You're relaunching your website within the next two weeks. Can you tell me a bit about the relaunch and what new things are going to be shown on your website?
The website will feature a blog that incorporates mindful dressing and living – key elements from my books The Happy Closet and The Happy Medium. There will also be a special section on What's in My Wardrobe which showcases the many ways I wear and re-wear closet staples and special pieces.
Annmarie's book is available in all good bookstores and on Amazon.